Solutions Architect Data Analytics Core | Role Explained
The role of a solutions architect – data analytics – core is to connect business problems with technical solutions. They sit in the middle of business and people and technology, working as a bridge to connect business solutions with the intricateness of data analytics.
What makes them a kind of trusted adviser is their expertise in the field of core data analytics. But there's more to it, such as coordinating with the technical teams to generate ideas that fulfill stakeholder needs.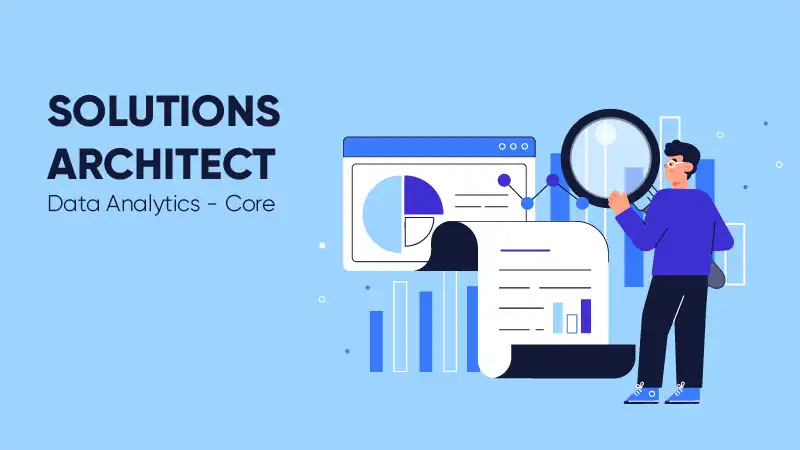 Key Concepts of Data Analytics Core
The core principle of data analytics is to make decisions data-driven, not intuition-based. It involves collecting, transforming, and organizing data to get valuable insights through systematic filtering to back up a decision.
With data analytics, we are interested in taking advantage of the vast data available today. In turn, we want better, more insightful information that helps identify interesting hidden and implicit patterns or trends.
Career Opportunities in Data Analytics
Based on experience and institutional requirements, you may get a role as a data analyst, data scientist, business analyst, data architect, data engineer, or solutions architect.
The Role of a Solutions Architect in Data Analytics
Before understanding the role of a solutions architect – data analytics – core, we need to know where a solutions architect fits in the landscape.
Data analytics, although being a multidisciplinary field, can be categorized into four types:
1. Descriptive Analytics: informs about an event
2. Diagnostic Analytics: provides the reasoning behind the event
3. Predictive Analytics: uses statistical techniques to inform about future events
4. Perspective Analytics: offers solutions, given an event or its likelihood
Solutions architects come into play at the perspective analytics phase. Now, the term 'architect' may have you thinking that the role has to do with designing the database or data warehouse. But that falls more into the territory of a data architect, a different role in the data analytics pipeline.
What Is a Solutions Architect?
A solutions architect is a person who bridges the gap between the business and technical side of things. They do so by designing and implementing solutions for business growth based on data research and expertise.
Most solutions architects start their careers with entry-level roles like database administrator, data analyst, or data scientist. And extensive tasks like analyzing data, developing algorithms, and designing infrastructure are responsibilities of those roles. So, why do we even need a solutions architect?
What Does a Solutions Architect Do?
The responsibilities of a solutions architect include understanding business needs and coming up with solutions backed by data analytics. However, that does not mean they have nothing to do with the technical end. Their role is more of a coordinator between analysts and stakeholders. Here's what they generally do.
Work With Technical Teams
Assist the existing teams on how to build, operate, install, and manage a specific piece of technology that will support the business in the future.
Determine how existing technology works and find ways to improve them.
Work with software development teams to develop software that eases the implementation of a solution.
Consult Stakeholders and Understand Business Goals
Help stakeholders get a deeper level of understanding about the technology they want to introduce and how it complies with the existing system.
Document and monitor specific requirements and identify business needs.
Propose and design frameworks to solve recognized problems.
Provide Detailed Specifications for Proposed Solutions
Analyze what specific technologies are required to fulfill a function.
Study possible project challenges and constraints, including risks, time, resources, and scope.
Research data and test how well the solution will adapt and scale if the business grows.
Implement Solutions and Data Strategies
Ensure successful adoption and integration into the existing infrastructure.
Define clear project goals and manage executions.
Monitor the progress of initiatives.
Make sure the end user receives the promised value.
Why Chase A Dream of Solutions Architect?
There can be many reasons why you might want to pursue a career as a solutions architect, such as:
You get to work in top-rated cloud companies and, more importantly, work with and manage real people, unlike the role of a traditional data analyst.
The average pay of a solutions architect can range from 100,000 to 200,000 USD per annum.
You will get a dynamic work experience, as the responsibilities often change depending on technology trends.
How to Become a Solutions Architect – Data Analytics – Core
Becoming a solutions architect is not something you can achieve overnight. Although there are some entry-level openings at some companies, the role is something you climb up to after a few years of working in the industry.
However, the possibilities are endless since people currently working as solutions architects seem to have diverse starting points. Most started a career in data analytics, while some shifted paths from being software developers or enterprise architects. However, the typical requirements are as follows.
Academic Background
Degrees like Computer Science, Information Systems, or Software Engineering almost always include Data Analysis and Data Mining courses. So, having an academic background in either of these will give you an edge over people from other disciplines.
Technical Skills
Below are the skills required to become a solutions architect – data analytics – core.
Data Architecture
Governance Framework
IT Strategy
Enterprise Architecture
Object-oriented Programming
Agile and DevOps
Since the terms are self-explanatory, we won't dig deep into each in this article.
Soft Skills
Leadership and project management
Communication and interpersonal skills
Result-oriented approach
Adaptability
Analytical thinking and problem-solving
Conclusion
As we live in the era of Big Data, the importance of data analytics in modern-day businesses doesn't need much explanation. However, converting the intricate technical information acquired through data analytics into real-world solutions is challenging. That's where a solutions architect – data analytics – core comes in, breaking the barrier between the technical and business aspects. As this role can leverage resources while striking a balance between stakeholders and data scientists, it is here to stay.