AWS
Beware The Client
Recently I was searching Google for "startup consultant" to see what I might find. I came across this article by John Greathouse titled Beware the Consultant.
No self-respecting, hard-working consultant would sit back and take hits without defense, so in true poetry slam style, I thought I'd write a quick retort.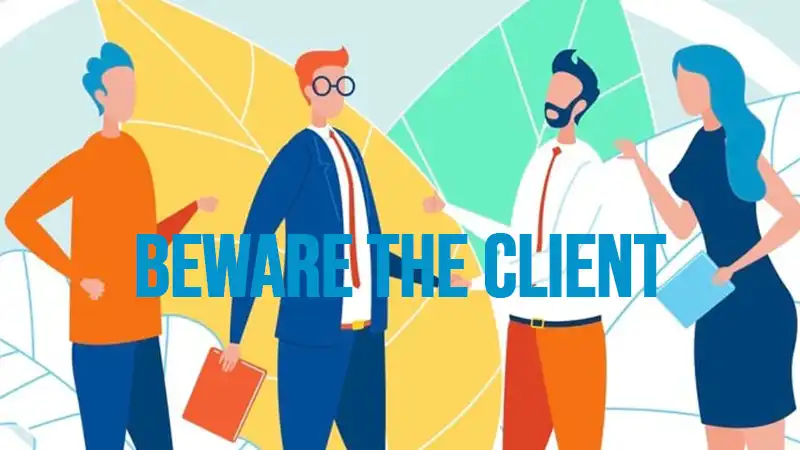 Beware the Client…
The one that asks for the world.
The one that wants everything done yesterday.
The one that drags their feet paying bills or loses your invoices.
The one that moves the goalposts halfway through a project.
The one whose left-hand doesn't know what the right hand is doing.
Truth Is Often Stranger Than Fiction
Of course, in the real-world things are much more nuanced than this black-and-white picture. Certainly, there are probably some consultants that fit John's description, but there are others that are loved by their clients.
There are tons of "little guys".
There are freelancers that do a thankless job.
Consultants provide much-needed plugin solutions for firms.
They work as long or as short as necessary.
They're available, when you can't find anyone!
They're often self-taught – maintaining skills on their own dime.
BYO laptop, they're plug-n-play.
They're communicators – or they wouldn't succeed in consulting.
They are small business owners – so they relate to your real business pain.
2 Things in My Opinion About the Compensation
As far as performance-based compensation goes, I would say two things:
It's always performance based because in my experience the startups I work with are usually bigger than I am. So, if they decide not to pay to be unsatisfied with the work, there's little I can do about it.
I do believe in being open to different types of arrangements, sometimes day or week based on time and materials, and other times project based. However, the devil is very often in the details with regard to "quantified, clearly understood results".
Although Mr. Greathouse may describe *some* real-world or big-corp consultants, they are by no means representative of the lot of us.
Conclusion
All the types of clients that you beware of are exposed above and we hope you can now deal with your clients more efficiently after reading this. For any confusion, don't hesitate to ask in our comment section below. Thanks for reading!